A few days ago I decided I would take the 31 day challenge of cleaning and organizing my house. You can read about it
here
.
We were busy today so I wanted to focus on something small. I decided to reorganize one of my cabinets in my kitchen. All my others are organized fine, but this one has been driving me crazy for awhile.
Below you can see some before and after photos. I'm blogging on my phone so the formatting is a bit off.
Tomorrow I'm thinking I will concentrate on my fridge!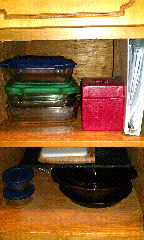 Today we took Jack to see his first movie in theatres. We went to see Cars 2 at the local $1 movie theater. He made it through about 1/2 of the movie before getting restless. He also ate almost an entire tub of popcorn by himself.
Hope everyone is having a great weekend!